This page is also available in:
Deutsch
At ZenInvest, I aim to provide the best roboadvisor reviews. To support this, some of the providers featured in reviews will generate an affiliate commission which helps pay to run this website. However, this doesn't influence my reviews. My opinions are my own. The information provided on Zen Invest is for informational purposes only. Please read the full disclaimer.
Overall rating of my Whitebox review
4/5
⭐⭐⭐⭐
'Best Customer Onboarding'
In this blog post I'll be reviewing the investing platform and roboadvisor, Whitebox.
From the outside Whitebox offer a fresh look and feel, with plenty attention being paid to the user interface and onboarding process – but how do the investing options stack up from this German roboadvisor?
I'll be taking you through it all in this Whitebox review, step by step.
As I do with all my reviews, I'll be showing you all the steps to opening an account in this Whitebox review, and give some of my personal pros and cons of the platform. Open up the homepage yourself and use my guide below to follow along if needed.
Make sure you read the FAQ's at the end of this review, which cover the main questions in more detail. Let's find out if Whitebox is right for you.
🎁 Reader Bonus: If you are ready to try Whitebox, don't forget to use this link when you register to take advantage of their latest promotions.
Whitebox Review: Pros and Cons
Whitebox are a great option to get started on your investing journey. Not only is the onboarding process and account opening slick and easy, you can start investing with the roboadvisor for as little as 25 EUR.
Despite the lack of English for expats, the platform is simple to use and the customer service excellent. For beginners looking to get started, Whitebox are worth checking out.
Pros
Cons

Slick account opening process
Licensed and regulated in Germany
Established custodian partner bank
Low account opening and free welcome bonuses
How to open an account with Whitebox
Head over to the homepage at Whitebox.eu to get started.
> Click here to open the homepage
Click 'Jetzt anlegen' to get started:
Next, select the type of account and hit 'Weiter':
Are you investing for a a rainy day, or maybe for the kids? Make your choice…
Next drag the slider to select how much (doesn't need to be exact) you think you'll be investing to start with:
And how much per month…
Next onto your risk tolerance. The higher the rating, the more stocks you'll have in your portfolio:
Based on those inputs, you will be given a 20 year projection, as shown below. You can change those details easily by clicking in the box on the right.
Have a play and see how the different risk models impact your long term wealth. And also what an extra 20 EUR a month does when you invest it for 20 years…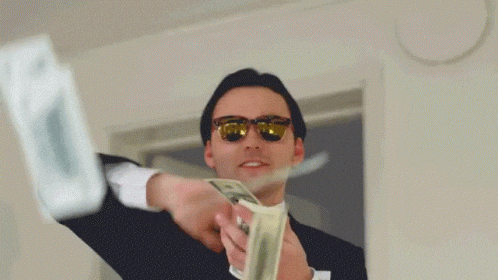 Ok, next lets check out the portfolio which has been created.
Click the 'Portfolio' link and you'll the nice looking pie chart which shows the split of your investments. Stocks, bonds, cash – all of which can be viewed in more detail by clicking the 'Assetklassen' drop down:
Clicking 'Produkte' will then bring up further specifics on exactly what your portfolio is comprised of.
There are no surprises here and low cost ETFs are used throughout – You can Google all of these to learn more details, but for most of us the below list gives enough detail.
From what I see in this test, everything is pretty standard.
Next you click on 'Kosten' to see the breakdown on the total yearly costs.
Once you are happy, click 'Jetzt anlegen' to move on:
Now we move onto the next stage, enter your email to continue:
You'll then need to confirm your address:
So jump to your inbox and click the confirmation link:
Ok! Email confirmed. Click 'Weiter':
Now we move onto your financial data.
Drag the slider to indicate your monthly income:
And the same for your expenses…
Now give an indication on the value of your assets (e.g. savings, property)..
Next liabilities, maybe you have a mortgage or some other debt..
Now we enter our name, DOB and related details and click 'Weiter':
Enter your phone number:
Next up, enter your address:
Are you married, single or something else? Make you choice:
Moving along here – now about the type of job you have. Use the drop down menu and hit 'Weiter':
A quick check that you pay your taxes:
More standard legal 'know your customer' compliance checks here:
Now you need to give some indication on how much you already know about the different types of assets you can invest in, and how often you've used them in the past.
Be honest, there are no right or wrong answers:
Now you need to read through the disclaimers for each asset class:
OK. Almost done.
Click the icon to download your PDF contract and save it somewhere safe.
Everything looking good? Hit 'Bestatigen und weiter'..
Just a few moments…
And onto the final step – verifying your identify. The easiest route is via webcam, and the process takes no more than a few mins.
Once done, you'll have your account enabled and all the details emailed to you.
Good job!
🎁 Reader Bonus: If you are ready to try Whitebox, don't forget to use this link when you register to have 5000 EUR managed completely free for 6mths!
Logging in for the first time
Once you've logged in, you'll be presented with a familiar look and feel with the dashboard.
It's nice to see the slick user experience remains consistent- kudus Whitebox 👊
Select one of your portfolio buckets to view more:
Here you can see the overview and projection of your portfolio, as we did in the registration process.
Look familiar? Click 'Portfolio' to dig deeper:
Here you have the overview of your portfolio, and can go a step further by clicking 'Mehr Details':
A window appears with greater detail on the split of your portfolio, showing which types of stocks you have.
You can cycle through to see the sectors and regions also via the arrows next to the pie chart.
Once done, click the X:
Next, lets click 'Depotbestand' and you can view all the transactions which have taken place:
Now clicking 'Performance' shows you, er, the performance of your investments over time.
You can cycle through different options and charts by selecting from the drop down, as shown below:
And finally, to view all your documents (transactions etc) just click 'Dokumente' in the side bar on the left, and you can then download the PDFs individually or in bulk.
Simple and efficient. Nice.
Funding the account
Funding your account is straight forward via bank transfer, which go into your flatexDEGIRO reference account the details (e.g. IBAN) of which are sent to you when opening the account.
While you can't fund the account via credit card, you can fund the account with just 50 EUR and setup monthly deposits starting from 25 EUR. The process is quick and easy.
Login & Security
As you would expect, industry standard SSL encryption is used throughout the online experience, and you have two factor authentication to protect your account when you login.
It's important to note that Whitebox are not a bank, but an asset manger. Like many roboadvisors they have partnered with a custodian bank, in this case flatexDEGIRO Bank AG, to hold your investments.
From a company standpoint, it is comforting to know they are based and regulated by the Federal Financial Supervisory Authority (BaFin) in Germany, and have 'walk in' offices in Freiburg im Breisgau.
Fees & Charges
Whitebox are good value for money when compared to traditional methods of building and managing an investment portfolio through a traditional bank, and compared to other German based roboadvisors pretty competitive.
The 'all in' fee is 0.95% for portfolios under 30K EUR, and decreases as you invest more. Here's the full breakdown:
| | |
| --- | --- |
| <€ 30,000 | 0.95% pa |
| ≥ € 30,000 | 0.85% pa |
| ≥ € 50,000 | 0.75% pa |
| ≥ € 100,000 | 0.60% pa |
| ≥ € 250,000 | 0.45% pa |
| ≥ € 500,000 | 0.35% pa |
Whitebox doesn't charge extra for account management custody fees or rebalancing – the transparency here is refreshing.
Customer Support
In my tests, customer support was very responsive and able to respond and resolve my concerns quickly and efficiently.
Whitebox make support very accessible. Firstly, the wiki and FAQ are extremely comprehensive and the first place to go for questions and problems. A huge amount of these customer problems have already been answered and documented there.
The transparency on documenting and putting customers first is refreshing.
Next, they have multiple ways to get in touch – nothing is hidden behind a generic support email, with local phone support, based in Germany and not offshore, which operates until 7PM.
Additional Resources
Whitebox have a large selection of additional resources and useful material about investing. Everything from the blog articles, newsletters and magazine – plenty to read through and learn about, all in a well designed and accessible manner.
They also have whitepapers, webinars and additional material linked throughout the site, in exchange for you email address, to dive into even more detail.
It's nice to see a roboadvisor such as Whitebox investing in content to educate and inform newcomers and investing beginners.
The only negative here would be only German content is available, so expats a little challenging – but maybe we should try harder to learn German anyway 🙂
They are also active on the various social media channels, and have a strong following on the main channels such as Linkedin, Facebook and Twitter.
Background info on Whitebox
Whitebox was founded in 2014 by Dr. Birte Rothkopf und Salome Preiswerk, with Salome Preiswerk currently heading up Whitebox as CEO.
Since their founding, they have grown to 40 employees and have expanded in Germany considerably.
That said, they haven't publicly stated how many euros they have under management, so it's tricky gauge their exact size compared to the competition. They have stated it's many millions however -e.g. xxx.000.000 €
They are headquartered in Freiburg im Breisgau, BW Germany
Reader offers & deals
If you are ready to try Whitebox, don't forget to use this link when you register to take advantage of their latest promotions.
Whitebox have run other promotions and offers in the past, so check out their news page for the latest.
Closing thoughts
I'm a big fan of the slick onboarding process with Whitebox, the look and feel is also very clean and 'minimal' but at the same time, you have everything you need. Very Zen.
For those looking for a licensed and regulated asset manager based in Germany, Whitebox are a solid choice. With the regulation and backing of a solid reference bank behind the scenes, it brings a lot of value for those living in Germany.
Whitebox takes the complexity away from investing, and provides a simple and easy to understand view of your current and future state of your wealth.
There's no blackbox here – check them out for yourself.
🎁 Reader Bonus: If you are ready to try Whitebox, don't forget to use this link when you register to take advantage of their latest promotions.
FAQs
Alternatives to Whitebox – Which other roboadvisors should you consider?
Be sure to check out roboadvisors such as Scalable Capital, Quirion, Growney and Oskar as alternatives to Whitebox.
Is there a promotion code for Whitebox.eu?
Yes. Use this link when you register to have 5K EUR managed free for 6months.
Are Whitebox.eu regulated?
Yes. Whitebox are regulated in Germany by the Federal Financial Supervisory Authority (BaFin).
Is Whitebox.eu a bank?
No. They are an asset manager and use the services of their custodian bank, flatexDegiro AG.
Who is Whitebox aimed at?
Typically long term investors, both those with experience and newcomers due to the simplicity and ease of use. The low account minimum also makes it accessible for newcomers looking to try out the service before committing.